The Warp T Head

Sporting four 6L6 tubes, the head pumps into the cabinet a heavy helping of oomph, giving you punch unmatched in this class. You'll revel in your newfound ability to cut through the din. Courtesy of mighty 120 watts blasting out of four 12" speakers, your New Metal riffs are sure to come across loud and proud. But even an opus played at warp speed soon becomes boring without a little tension and release to spice things up. The WARP T ™ also delivers the kind of crisp, crystal-clear clean tone you need to heighten the musical drama and go from overtures of glassy, glossy arpeggios to infernal finales of paint-peeling fury.



The Warp Cabinet
Somewhat larger and more stable than your ordinary 4x12" cab, this baby is built to deliver scooped mids and bowel-shaking low end. Featuring a special speaker combination of two Celestion Vintage 30s on top for crystal-clear sound and two Celestion Hot 100's on the bottom for pure bass bliss, this cab delivers archetypal Nu Metal tone. Shimmering with crisp top end and shaking with fat bottom end, this sound is unmatched by any other.

CLEAN CHANNEL
Even the hardest rocking axe slingers will want to give their head-banging audiences a break now and then. That's what the CLEAN channel is here for – to deliver sweet clean sound for those softer passages that make the next monstrous riff seem even more elephantine. The WARP T™ offers a unique brand of ultra clean sound that remains crisp, clear and sparkly at even very high volumes. This ensures your sound cuts through and ends up where it belongs – in your audience's ears.

PRESENCE
Controls CLEAN channel overtones.

FX ON
Routes the external effect to the CLEAN channel.

TREBLE, MID, BASS
These knobs voice (shape the tone) of the CLEAN channel.

VOLUME
Determines the CLEAN channel's volume and compression levels.

INPUT
Located on the far right, this jack accepts your guitar cord's 6.3 mm (1/4") plug.

WARP CHANNEL
Dive right into the wonderful world of high gain distortion and luxuriate in the jaw-droppingly powerful sound of every riff that rips through speakers. Courtesy of the tube circuitry, this sound leaps right out of the cabinet and goes straight for the throat. The WARP channel delivers it all, from a nasty Nu Metal thump to post-grunge growl, from alternative snarl to the doomsday thunder so cherished by devotees of death and Goth Metal. By varying the WARP channel's preamp gain and the power amp via the MASTER VOLUME knob, you can dial in anything from venomous to spine-chilling scream – and all points in between.

MASTER
Controls the level of the WARP channel. Use it to dial in the desired balance between the CLEAN and WARP channels, that is, to determine which side of the WARP T™'s split personality will dominate - Dr. Jekyll or Mr. Hyde.

TREBLE, MID, BASS
Tweak these three knobs according to taste, shaping your personal WARP sound as you see fit.

LUBE
Do you want ultimate response to your touch, a feeling that the strings are an extension of your fingers and slaves to your will? Then press the LUBE button. It "greases" up your strings, making riffs and licks fly off the fret board.

SUB
Press this button to dig deep into the dark underbelly of the WARP channel and draw up bowel-shaking sub bass frequencies.

FX ON
Routes the external effect to the WARP channel. If you want to switch this function via Stageboard or MIDI, set this switch to the OFF position, that is, ensure that it is not pressed.

GAIN
Of all the WARP T™'s many features, the GAIN knob is the one that will shape the heart of your tone. Evoking anything from gritty crunch to ferocious fuzz, the GAIN knob lends your riffs and power chords precisely the edge that you want them to have. Twist it to go from merely dirty but tremendously punchy tone at lower settings to a merciless evil roar at higher settings.

WARP CH. ON
Activates the WARP channel and unleashes its unbridled tube power.

FRONT PANEL
The cockpit of the WARP T ™ is divided to three sections. On the left next to the MAINS button, you'll find the MASTER section.


MAINS ON/OFF
This button switches the main power supply on and gives the tubes the opportunity to warm up for the challenges that lie ahead.

STANDBY
This switch mutes the amp. After the tubes warm up, flick the STANDBY switch to send the guitar's signal into the
WARP T™. Use the following knobs to shape your signal:

MASTER VOLUME
As the name would indicate, this knob puts the power of 120 tube-driven between your thumb and forefinger. Use it wisely because it can induce everything from bliss to pain to near madness your band mates. Though twisting this knob can be as much fun as the law allows, don't unleash all this power rashly. Exercise restraint and protect your and your fellow musicians' hearing.

MIDI LEARN
This button serves to program the retrofit Hughes & Kettner® MSM-1™ MIDI module. Installing the MSM-1 MIDI module endows the WARP T™ with MIDI capability. Once it has been installed, you can press the MIDI LEARN button to save the current channel/FX loop configuration.

FX LEVEL
This knob adjusts the external effect signal's amount or the wet level.

REAR PANEL
You'll find the following components mounted on the black sheet metal panel on the back of the amp:

MAINS
Equipped with a fuse compartment, this Euro mains socket provides power to your amp. Before plugging into the wall outlet, make certain the amp's voltage rating matches your local AC voltage rating. To find out your amp's voltage rating, refer to the TECHNICAL SPECIFICATIONS.


FOOTSWITCH
This port accepts the two-way Hughes & Kettner® FS-2 Stageboard, which lets you switch CLEAN and WARP channels and FX ON remotely. This feature comes in particularly handy on stage when you need to switch on the fly.

FX SEND
If you want to employ an effect device, connect this jack to the signal processor's input. You can also use this output to send the signal to an outboard power amp or a RED BOX® to patch your signal into a mixer.

FX RETURN
Connect this jack to the effect device's output.

FX –10dB
This button reduces the FX SEND jack's output level by 10 dB and increases the FX RETURN jack's input sensitivity by 10 dB to adapt the FX loop to the effect device's input level. Press this button when using effect devices with inputs designed to accept instrument levels.

MIDI MODULE
Channels, FX ON/OFF, and FX PARALLEL/SERIAL can be switched via the optional Hughes & Kettner MSM-1™. The MIDI module lets you select a MIDI channel number or OMNI mode, in which it responds to commands on all 16 MIDI channels.

SPEAKER OUTS
You can connect cabinets with impedances of 4, 8, 2 x 16 and 16 ohms to the corresponding speaker outputs. Your best bet is to always connect the specially developed cabinet to the WARP T™. It is perfectly matched to the amp, giving you the biggest, boldest bottom end and a veritable eruption of heavy duty tone.

Set Up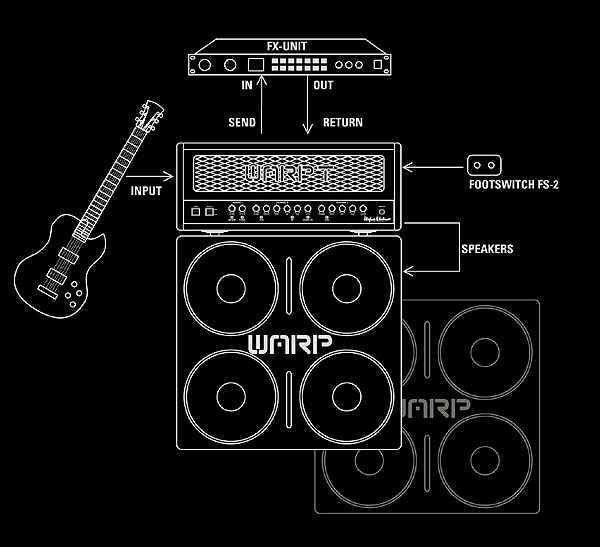 Warp T Head

Features:

120- watt power amp (4x 6L6)
Preamp: 4x 12AX7/ ECC83
2 Channels: Clean, Warp

Controls

Clean: Volume, Bass, Mid, Treble, Presence
Warp: Gain, Bass, Mid, Treble, Presence, Master
FX Level
Master

Switches

Clean: FX On
Warp: FX On, Sub, Lube
FX Parallel/ Serial
MIDI Learn
-10 dB Send/ Return

Connections

Input, FX Send, FX Return, Footswitch,
Speaker output: 1x 4 ohms, 1x 8 ohms or 2x 16 ohms, 1x 16 .
MSM 1 module (optional)

Dimensions (W x H x D) + Weight:

650 x 250 x 250 mm; 20,5 kg
25 1/ 2" x 9 4/ 5" x 9 4/ 5"; 45 lbs.
WARP T - C 412 A Cabinet
2x Celestion Vintage 30 (oben)
2x Celestion Hot 100 (unten)
Connections
Parallel In/Out
Dimensions (W x H x D) + Weight:
765 x 825 x 345 mm, 40 kg
30" x 32 1/ 2" x 13 3/ 5"; 87 lbs.