Warp 7 Combos
Ultra low, ultra bad and fulminating with explosive energy – that's the formula for 21st century guitar tone. An unprecedented sound, conventional rock'n'roll amps don't have what it takes to deliver it.

But the new WARP 7 ™ combos certainly deliver the sonic goods. Pitch-black, massive and ferocious, that trademark WARP 7 ™ tone is just what the doctor ordered for seven-string and detuned guitars. And you get a killer clean channel alongside that feral Warp sound. Easy to tote and handle, you don't need to be a rocket scientist to dial in monster sounds. Handling bowel-shaking 100 watts of pure power, the 12" Celestion® speaker is specially tuned to pump out low-end oomph. And the WARP 7 212 offers two of these babies for even more sound pressure and a blast of bottom end that is sure to set your bell-bottoms a-flappin'.

An FX loop is on board ready to accept your fave multi-effector; the optional footswitch lets you switch channels (CLEAN/WARP) remotely.

The built-in headphones port lets you get in late-night practice sessions without the long arm of the law tapping your shoulder.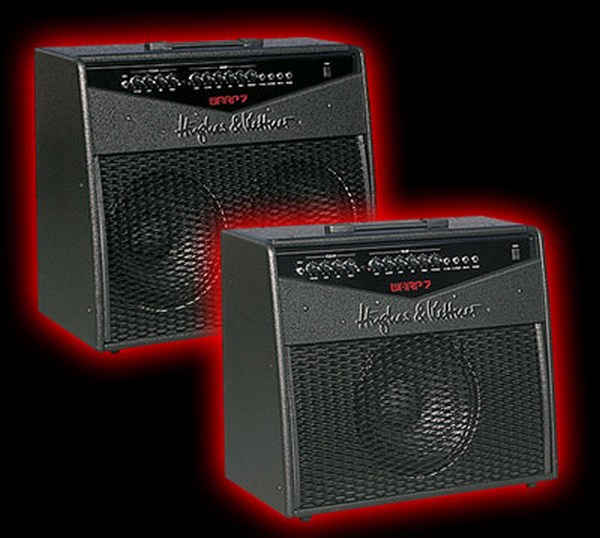 FEATURES
Channels + Controls:
Clean: Volume, Bass, Mid, Treble Warp: Gain, Master, Bass, Mid, Treble, Presence
Connections:
Input, FX Send, FX Return, Footswitch, Headphones, Speaker Out (serial)
Power amp: 100-Watt Current Feedback
Speaker/s: 12" Warp Custom
Dimension (W x H x D) + weight:
Warp 7/212: 654 x 595 x 330 mm; 26 kg
25 3/4" x 23 2/5" x 13"; 57 lbs
Warp 7/212: 590 x 530 x 320 mm, 20 kg
25 1/5" x 21" x 12 3/5"; 44 lbs