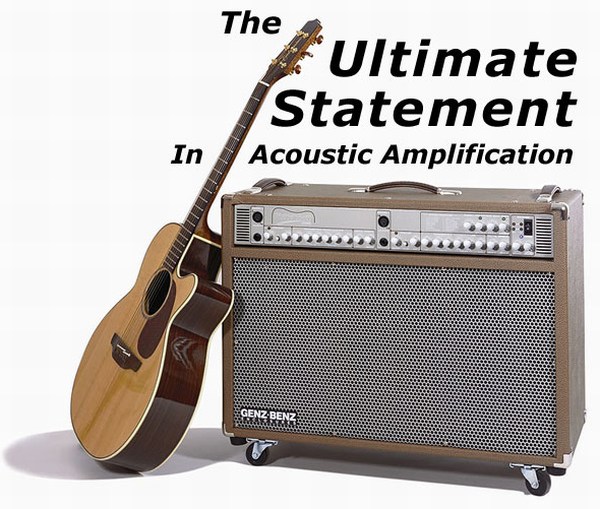 THE ULTIMATE STATEMENT IN ACOUSTIC AMPLIFICATION
SHENANDOAH - 200
The new Shenandoah ™ Stereo Deluxe 200 has been design as the most full featured professional acoustic amp available -- able to reproduce the warm, natural, distinctive tones of acoustic instruments, even at high output levels.

The Stereo 200 watt design provides incredible headroom and is capable of high level dynamic output for the club or concert stage.

The stereo amp design and "FLEXED" speaker baffle work together to better project the rich, detailed STEREO programs of the two onboard Alesis™ Digital Effects processors. Both DSP's can be assigned to operate on the same or individual channels and can be turned on and off by the foot switch (included).
FEATURES
• 200 Watt Stereo Output
• Two Full Featured Channels w/ XLR and 1/4" Inputs
• All Inputs Mix Together
• Input Peak LEDs on each Channel
• Four Band EQ per Channel (Two Parametric networks/channel)
• Dual Stereo Alesis™ DSP's (Can be assigned or mixed to both channels)
• Input Phase Reverse Circuit
• Unique "FLEXED" Speaker Baffle for More Articulate Stereo Image
• Dual 10" Speakers and Compression Tweeter Complement. (Optional extension cabinets available)
• Individual Tweeter Level Controls
• Four XLR Direct Outputs and Effects Loop Choices
• Auxiliary Input with RCA and _" Jacks
• Front Panel Aux. Input Control
• Left and Right Output LED's
• Bottom-Mounted Tilt-back Handle
• Removable Casters Included
• Internal Low Noise Fan Cooling
• 3 Comfortable Leather Strap Handles