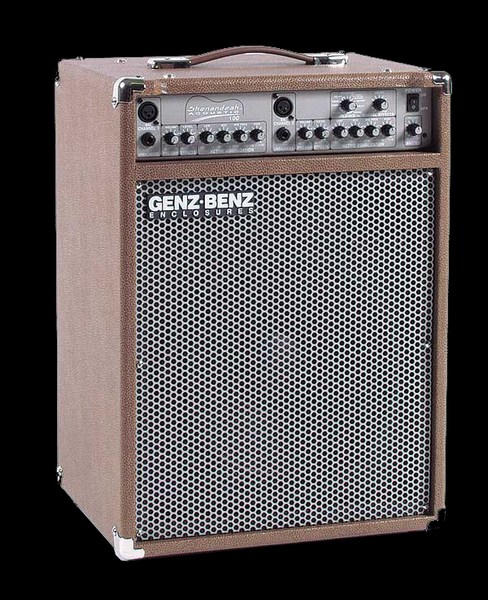 THE ULTIMATE STATEMENT IN ACOUSTIC AMPLIFICATION
SHENANDOAH - 100
The new SHENANDOAH ™ ACOUSTIC 100 is our latest update to the popular SHENANDOAH ™ ACOUSTIC 85. Without making any changes to the warm and woody tone for which the SHENANDOAH ™ series is known, we have added more power and dramatic cosmetic changes to further enhance the incredible acoustic reproduction capabilities of these full featured amplifiers.

The SHENANDOAH ™ ACOUSTIC 100 is a powerful 100 watt combo that offers huge output along with exceptional tone and professional features. The rich full-range response is further enhanced by the onboard 24 bit ALESIS(TM) digital effects processor, that produces studio quality lush reverbs, delays and chorus effects.

The versatility of our acoustic amps is unmatched in the industry.

FEATURES
• 2 Identical Channels w/ XLR and 1/4" Inputs
• All Input Signals Mix Together
• 3 Band EQ w/ Sweepable Mid Frequencies
• Powerful 100 Watt Fan Cooled Power Amp
• Phantom Power
• Unique "Soft Limit" Circuitry
• Alesis™ DSP w/ 15 Preset Digital Effects
• Custom Voiced 12" Loudspeaker
• Compression Bullet Tweeter w/ Level Control
• Excellent Stage Monitor w/ 3 Separate Direct Out Sends (Ch.1,Ch.2, Ch.1&2)
• Convenient "Tilt-Back" Cabinet Design
• Speaker Stand Mountable
• Protective Metal Speaker Grille
• New Dramatic Styling